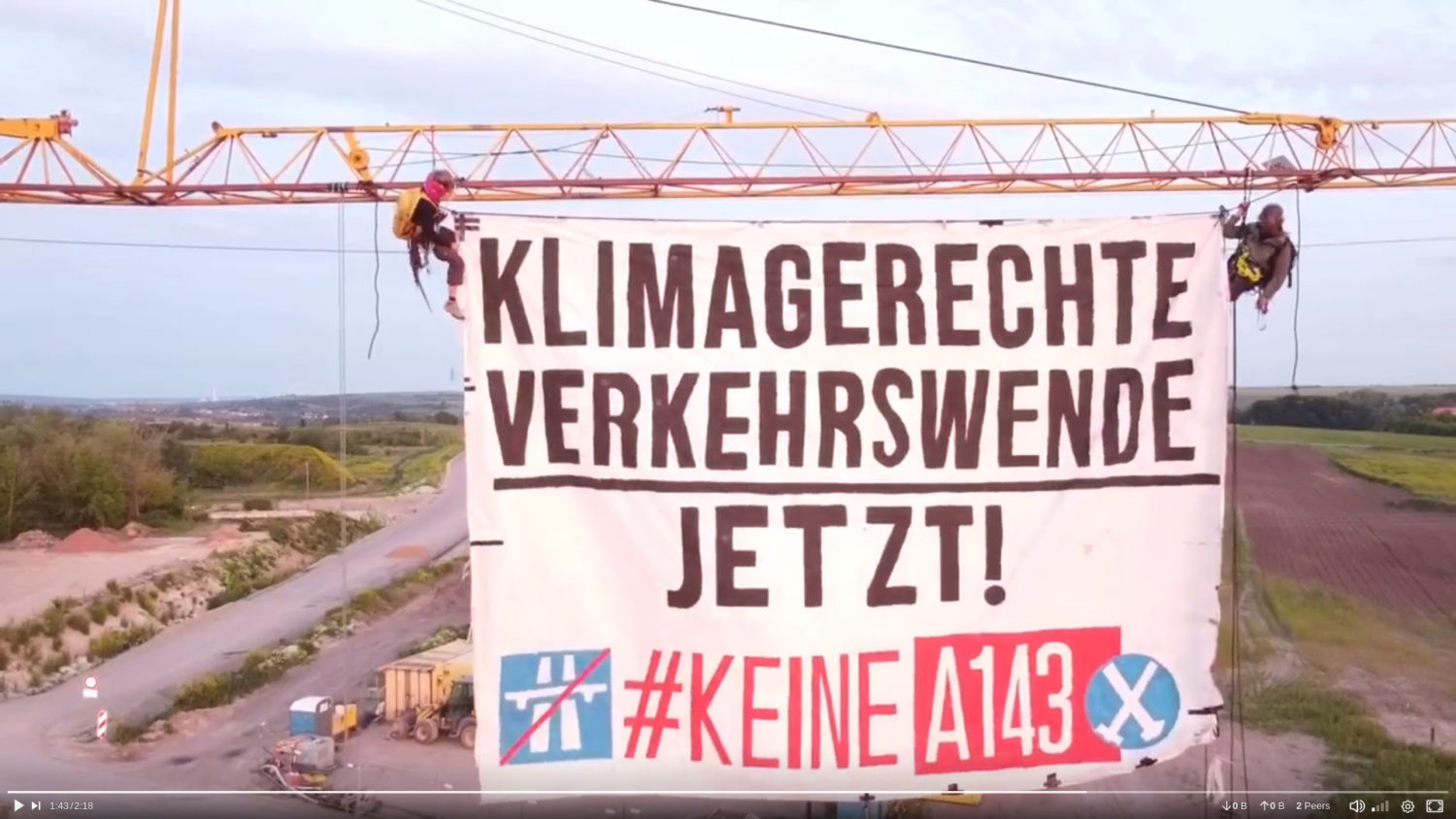 Our friends from "Ende Gelände" and a broad alliance started this awesome action at the first weekend in June.
Here is the english translation of the spoken words:
Elia Ajam: We are here today because there is a nationwide protest against the construction of new highways. Behind us on the construction site of the A143, activists from "Ende Gelände" hung up a banner (Climate-friendly traffic turnaround now! #KeineA143 #NoA143).
Rosalie Kamm: We are sitting here in front of the backdrop of the "Saale Valley" nature reserve. This nature reserve is home to a large number of rare animal and plant species.
Niels Gruhne: The electric car will never replace the combustion car in time. The lithium for electric cars comes from Bolivia, rare earths come from the Congo and there civil wars are waged for the batteries of our electric cars. That is why we say global justice is incompatible with the electric car.
Elia Ajam: While the countries of the Global North cause most of the emissions and continue to fuel the climate crisis, people in the Global South are already suffering from extreme climatic changes and disasters.
Rosalie Kamm: We are calling for a socially just and ecologically justifiable change in mobility.
Niels Gruhne: The federal government is planning to build 850 kilometers of new motorways over the next ten years. We are in the middle of the climate crisis.
Elia Ajam: All people must have unrestricted access to local public transport regardless of their income.
Rosalie Kamm: Show solidarity! Get active yourself!
Invitation: people wanted to organize the Climate Camp Leipzigerland 2021 focussing on the mobility justice
Dear people,
Corona is slowly retreating (in Europe), but the climate crisis continues to gain momentum. Time to bring our climate camp from the digital back into the real world: From August 27 to September 7 2021, we will organize a climate camp focussing on mobility justice in close proximity to Leipzig Airport and are looking for people to help us organize. We want to create a place of education, meeting and skill sharing, but also of political action. Our goal is to build on the recent successes of the previous years in the direction of energy transition and to kickstart a similar momentum towards green and sustainable transport. Out of the pit, up on the roads! Another thematic focus on the topic of global climate justice and migration will be linked to the deportation practice at the airport and the previous work on (anti) racism.
We are a grassroots democratic and self-organized group of people from Leipzig and its surrounding areas who are organizing this climate camp. If you want to take care of topics like education, political (direct) actions, public relations, logistics, bar or camp life, you are welcome to join. Experience is helpful, but newcomers are also welcome.
The best time to join is at the next orga circle meeting:
When: 6th til 8th of august!
Do you want to participate? Then contact us at info [at] klimacamp-leipzigerland.de and we will send you all the information. If you want to join us but don't have time this weekend, please contact us and we will send you the information about further meetings.
Who shuts shit down? We shut shit down!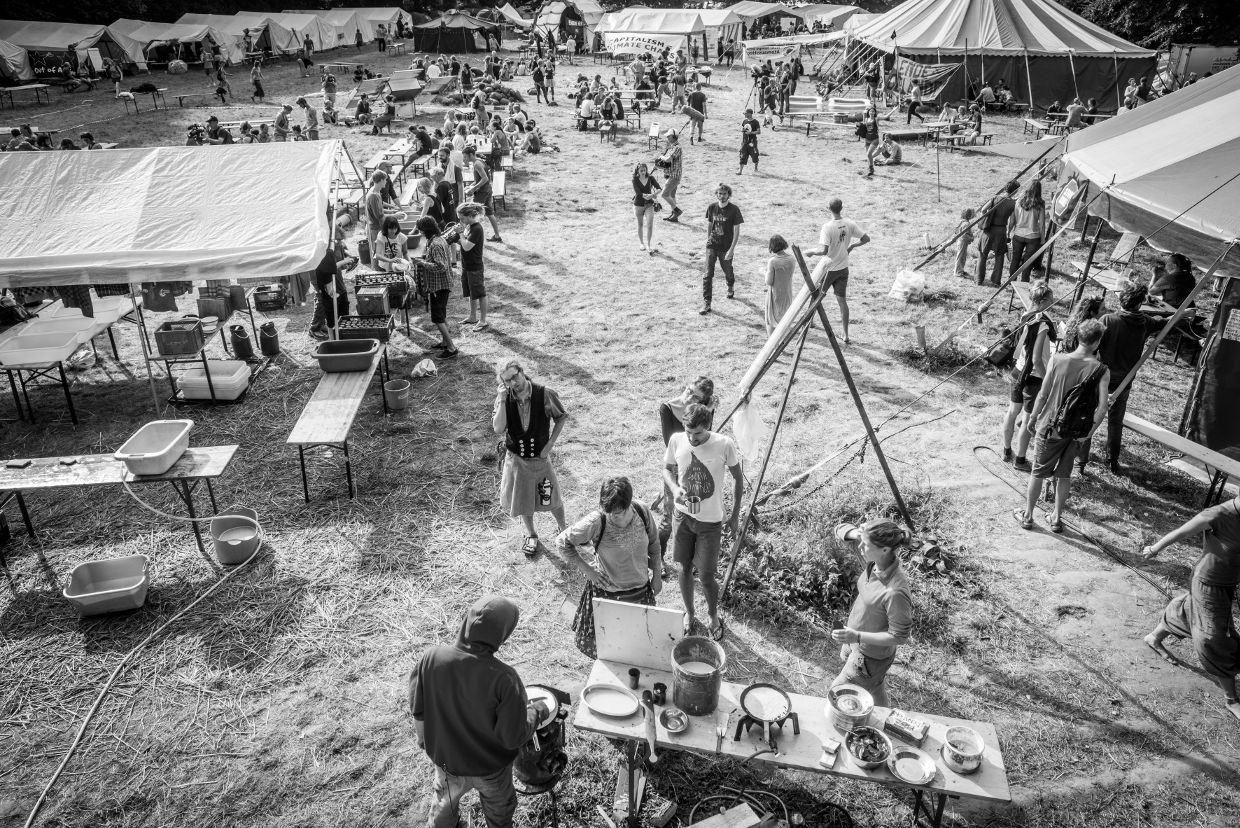 After there was the good news for Pödelwitz in the fall of 2019 that it will be spared from being dredged, this year we would like to turn our attention to another major climate polluter in the Leipzig area: the Airport Leipzig/Halle .
The airport and its further expansion do not only stand for a nonsensical continuation of politics and economy. It also shows that no action is being taken in the context of the urgently needed change in transport policy. The co-determination of local residents and those affected by climate change, as well as progressive climate change in general, are simply being ignored. This is no longer be up to with the times and is no longer acceptable!
We would like to fight together with you for mobility justice for all. We will organize panels, workshops, courses, but also actions and a good solidarity at the camp: cooking together, camping, making plans, empowering each other, living utopias & cleaning the dry toilets.
The climate cmap will be on August 27 – September 07, 2021 + the location somewhere near the airport.
Thank you for a wonderful Climate Camp Leipziger Land 3.1! In the meantime, it is already over a month behind us. But here and there we are still busy with the follow-up. So we are now gradually publishing the recordings of the camp in the circus tent. And even though most of the functionality is already switched off, you can still click through our digital camp.
We are still happy to receive donations!

The Climate Camp Leipzig is back! It will take place from 5th to 7th of June 2020.
Our Program is online by now and you can also register for Workshops.
Additionally, you can find a packing list so that you are well prepared for a digital climate camp!
Have a look at the packing list, the program and the workshops and get infected by the joyful anticiptation. You will have the opportunity to participate in practical and theoretical workshops about a necessary system change ranging from digital self-defense to BI_PoC** Empowerment, with guest speakers from Rojava, South Africa, the Netherlands, Peru and Germany. An interactive fishbowl discussion, an international podium about different global perspectives on the climate justice movement and a rich cultural programm as well as the possibility to get involved and active are just waiting for you. We hope to see you on Sunday for a common picknick in Leipzig where we want to enjoy being together with physical distance. You will get more information during the weekend!
We are very happy to meet you soon (next weekend)!
Your Climate Camp Leipzig
* The Climate Camp Leipzig 3.0 cannot take place as planned, due to the Corona shutdown. Now follows the second addition in version 3.1 digital.
** Black, Indigenous & People of Color

Dear people,
The Climate Camp Leipzig is back. It will take place from 5th to 7th of June 2020.
Together with you we want to develop utopias and visions of a society fostering 'a good life for everyone' and resilient against every crises. A society rooted in solidarity, sustainability and democracy.
Corona uncovers the causes of injustice and exploitation of nature even more. This exceptional camp gives space to exchange about the multiple crises ranging from the health crisis to the climate crisis and explore the underlining global interrelations and power structures. Thereby we will also reflect on our own role and positioning within the structure as well as empower each other.
How is this possible in times of corona? Mainly online and by video chat.
You will have the opportunity to participate in practical and theoretical workshops about a necessary system change ranging from digital self-defense to BI_PoC** Empowerment. There will be room to get involved, reflect, discuss, do fun stuff, plan actions and to unite & organize.
Program-Teaser:
interactive fishbowl-discussion about the climate justice movements during corona times
workshops, for example about reflecting racism within the climate movement, societal transformation, skills for effective climate justice activism, BI_PoC** and white*** perspectives on the multiple crises
panel discussion on different global perspectives on the fights for climate justice
activist action in Leipzig – we go back on the streets together
cultural program (concert,…)
open space, socializing, room for exchange
No matter if you have ever been to a climate camp or not, no matter if you are in an activist group or not: climate camps are – in person or online – always a good start for everything!
More information, a packing list and registrations for the workshop can be found on the website of the Climate Camp Leipzig starting at Thursday, the 28th of May:
https://www.klimacamp-leipzigerland.de/en/climate-camp-3-1/registration/
We are very happy to meet you soon!
Your Climate Camp Leipzig
* The Climate Camp Leipzig 3.0 cannot take place as planned, due to the Corona shutdown. Now follows the second addition in version 3.1 digital.
** Black, Indigenous & People of Color
*** "White" does not denote a biological characteristic or real skin colour, but a political and social construction. Being white represents the dominant and privileged position within the power relationship racism, which often remains unspoken and unnamed.

We are currently looking for facilitators for workshops/webinars for this year's Leipzig climate camp at the 06.06.2020.
Even though the current pandemic has been more effective preventing carbon emissions than any government – climate change won't stop any time soon. So now is the time to look beyond this current phase and start preparing for system change and sustainability.
Due to the pandemic, we have been forced to bring our very beautiful and successful "real live" climate camp into a virtual reality.  So on 05.-07.06., we will organize an online climate camp with podiums, workshops, dancing and hopefully political actions.
We are looking for workshops regarding:
1. Social/ecological transformation: In which ways do we have to change our society in order to prevent future crisis? How is capitalism involved, what are the most promising approaches?
2. Climate justice: Both effects of Corona and Climate change are linked to local and global structures of power and exploitation. Both effects are unequally spread around the world – marginalized people are getting hurt unproportionally. How can we simultaneously fight for global justice and a sustainable society?
3. Skill Share/Pimp my activism: Every tool and ability you can possibly think of to help us fight for a fair and sustainable world! Only to begin with: press work, digital self-defence,….
If you are interested in doing a workshop, tell us about the focus of your workshop, which interactive elements it includes and about your background (initiatives you are active in, experience with activism or online workshops) in a few lines. The earlier we get your reply, the better. Application Deadline is the 25th of May.
Cheers,
Your Climate Camp Leipziger Land Crew
++++++++++++++++++++++++++++++++++++++++++++++++++
Details:
date: 05.-07.06.2020 (Workshops mostly 06.06.)
time slots: 11:00-13:00 and 15:30-17:30
duration: 60-90 minutes plus 30 minutes discussion
language: German or English
format: Interactive video-telefonconference
software: Jitsi-Meet
compensation: Self-assessment (0-200€). Recommendation: people with a regular income low range/ self employed people or people without a regular income upper range

we, the Klimacamps organizing circle, are people from Leipzig and all over Germany who co-organized the Klimacamp in Pödelwitz last year. And because it was so nice
last year, we will be back in 2020 and together we will set up a camp!
Why wait for the revolution when we can start it ourselves today? We want to create a home together for a week, for resistance, solidarity, beauty and creativity – a place for exchange and networking, for learning together and creative actions. And we'd love to have you join us! We are looking forward to new ideas, faces and support and invite you to the opening plenum. There we will start our planning process together and decide where and when this year's camp will take place.
Our kick-off plenum will take place from February 21st (START: 16:00) to February 23rd (END ~15:00) in LEIPZIG (Demmeringstr. 32 in the Interim).
The organizing circle and the camp are organized in a grassroots democratic way. How this works, you will find out at the opening weekend. We meet every 6-8 weeks for our planning weekends in Leipzig.
The process is open for new people. No matter what knowledge or time capacities you bring along, you are welcome. We understand our common preparation process for the camp as a learning space. We would like to make the camp and our joint planning process sensitive to discrimination and we also see this as a joint learning process.
If you want to participate, please register under the following email address: INFO@KLIMACAMP-LEIPZIGERLAND.DE, you will then receive a more detailed schedule for the weekend.
Lastly, some information: The interim, the place where the plenary will be held, is barrier-free. There will be vegan food. If you have any food intolerances, need a place to sleep and/or child care, please mention this in your e-mail. The childcare is shared, so please bring your children with you.
We look forward to seeing you and the joint planning process for 2020!