Come to the demo on September 4!
The Good Life for All is only possible with a System Change! What this means at the airport? Noise pollution, deportations and abolishing the capitalist (military) logistics hub.
On Saturday we will take mobility justice into our own hands and march with a powerful demo from the climate camp to the center of Leipzig and from there by bike or public transport to the Leipzig airport and the gates of DHL.
The following groups will be at the demo:
– Stay on the ground
– Leipzig remains peaceful
– Protest LEJ
– Cancel LEJ
– Action alliance against airport expansion (exact name)
– Sea Bridge
– Climate Camp Leipziger Land
Join us and stand against the Halle/Leipzig airport!
When & Where: Saturday, September 4, 11 am Wilhelm-Leuschner-Platz
You can participate in the demo by bike or on foot, there are two different routes, both ending at the airport. We will start together from the camp in the morning and go to the kick-off rally first. There is the registered starting point of the demo.
Here is the schedule again, in case you want to join us on the way:
11:00-11:45 a.m. Kick-off rally Wilhelm-Leuschner-Platz
13:30-14:00 Intermediate rally DHL-HUB
15:00-16:00 Lunch break, Kursdorf at the church
17:00-19:00 Final rally at the airport
Get active!
We want to set an example with the demo! Therefore, bring as many yellow boxes as you can carry and find. Feel free to write your own demands to the airport on them and make it clear: We oppose the airport expansion and demand an opening of all borders for people instead of goods!
Arrival
It is best to come to the camp on Friday so that we can prepare for the demo together. Information on how to get to the camp can be found here. Please pay attention to our hygiene concept. Distance and hygiene rules will of course also apply during the demo. For more information about the day and the current events, you can check our Twitter channel.
Climate Camp? – Never heard of it!
Since 27.8. we are with the Klimacamp Leipziger Land at the Störmthaler See, in order to engage ourselves for mobility-fair conditions. We are very happy to have a variety of climate activist groups here on site, who are networking, educating and making plans for a mobility turnaround and freedom of movement, in order to make themselves strong for a common movement. The local focus for us here is Leipzig/Halle Airport. Together with #cancelLEJ and the Aktionsbündnis Flugahfen, we are also fighting against the airport expansion and demanding a transformation of mobility conditions.
We got the info today that a person at the camp (via rapid test) tested positive for Corona twice. The person has now done a PCR test, we are waiting for the test result. Possible contact persons have been informed.
We do not want to withhold this info from you. At the same time we have prepared a Corona hygiene concept in advance to deal with such cases. You can find the concept here: https://www.klimacamp-leipzigerland.de/umgang-mit-corona/. Please read it before you arrive, so that we can follow the rules together.
People can continue to arrive at the camp. It is up to you to decide how you want to handle the situation. We will keep you informed on the website if there are any changes regarding the arrival or the Corona rules.
We are now about 200 people on the camp – so there is still room. Feel free to come by, as a day guest or to stay overnight.
Before you arrive, we recommend you take a look at the Camp ABC, the packing list and the Corona instructions.
As long as our Corona traffic light is not yet installed on the website, we will inform you through the "News" as soon as the camp is full.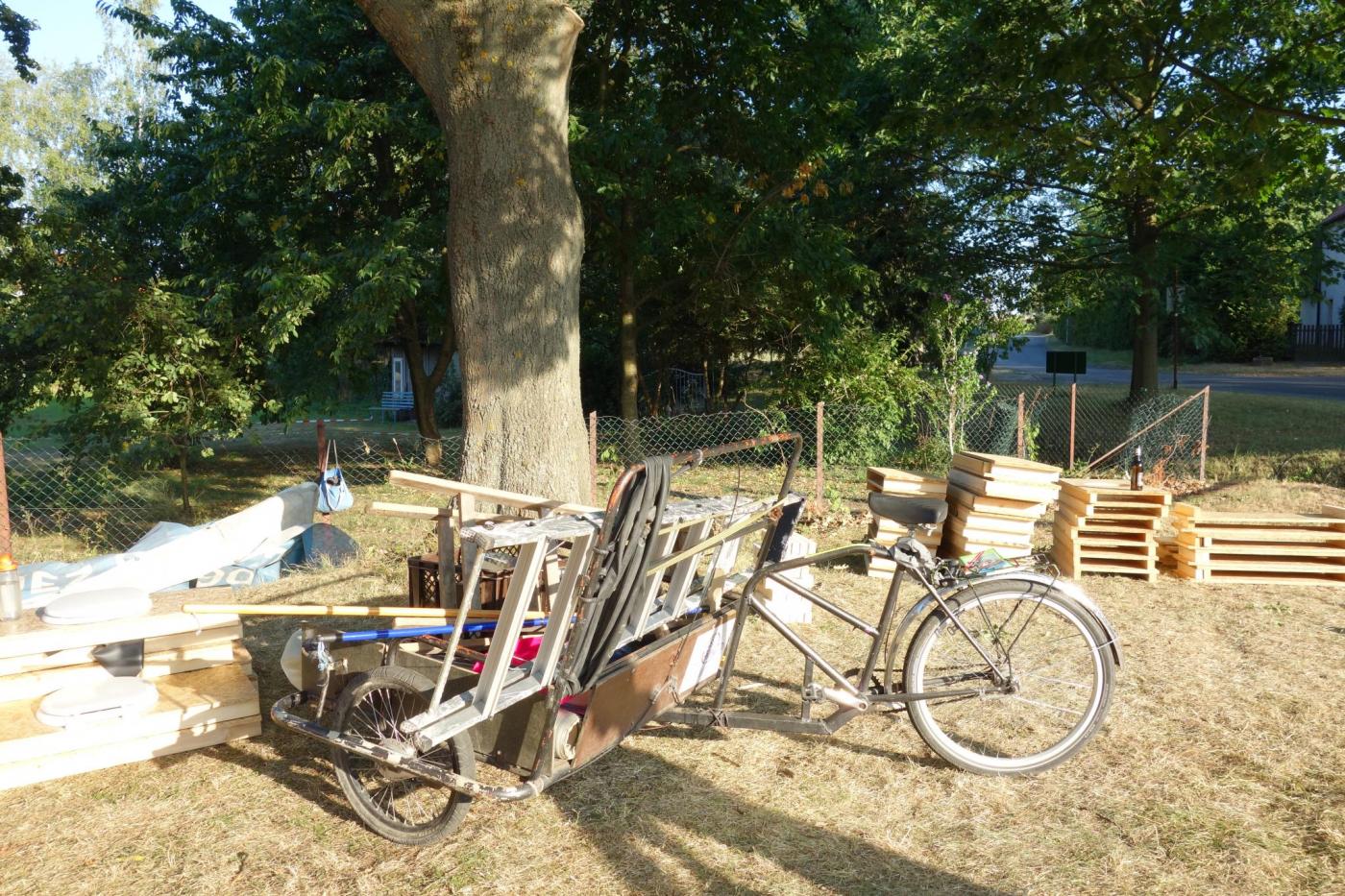 Finally the time has come: from today on you can register here for the climate camp and secure your places for you and your friends! In the context of the pandemic situation we want to make a safe camp possible for everyone and have therefore decided to limit the number of multi-day visitors. Day visitors can check here on the website at the beginning of the camp to see if we still have places available.
The elaboration of our Corona-Hygiene-Concept is in its final stages and will be available on the website soon.
This year's location will be in the south of Leipzig on the shore of the Störmthaler See. We will provide you with more detailed travel information as soon as possible.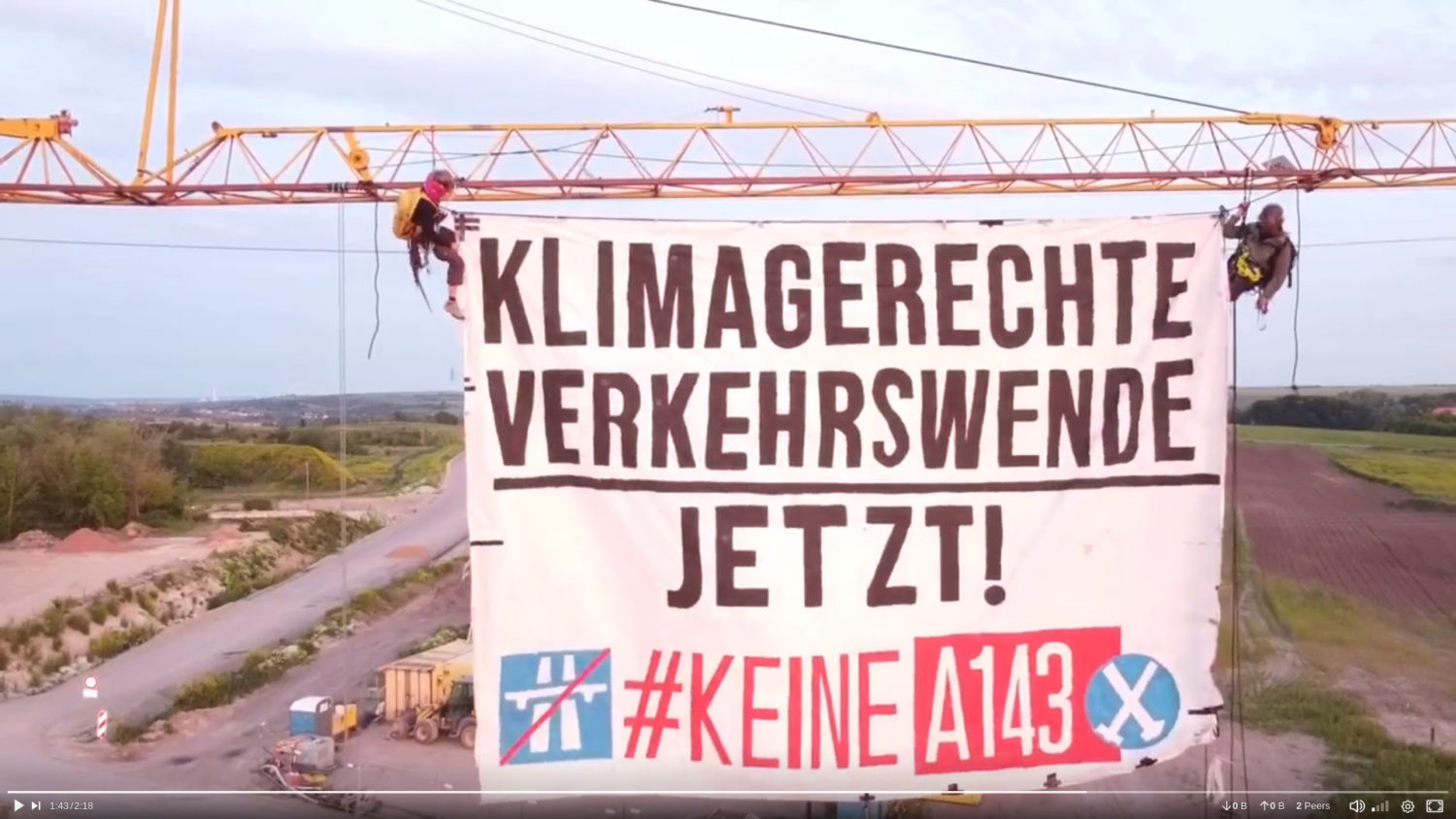 Our friends from "Ende Gelände" and a broad alliance started this awesome action at the first weekend in June.
Here is the english translation of the spoken words:
Elia Ajam: We are here today because there is a nationwide protest against the construction of new highways. Behind us on the construction site of the A143, activists from "Ende Gelände" hung up a banner (Climate-friendly traffic turnaround now! #KeineA143 #NoA143).
Rosalie Kamm: We are sitting here in front of the backdrop of the "Saale Valley" nature reserve. This nature reserve is home to a large number of rare animal and plant species.
Niels Gruhne: The electric car will never replace the combustion car in time. The lithium for electric cars comes from Bolivia, rare earths come from the Congo and there civil wars are waged for the batteries of our electric cars. That is why we say global justice is incompatible with the electric car.
Elia Ajam: While the countries of the Global North cause most of the emissions and continue to fuel the climate crisis, people in the Global South are already suffering from extreme climatic changes and disasters.
Rosalie Kamm: We are calling for a socially just and ecologically justifiable change in mobility.
Niels Gruhne: The federal government is planning to build 850 kilometers of new motorways over the next ten years. We are in the middle of the climate crisis.
Elia Ajam: All people must have unrestricted access to local public transport regardless of their income.
Rosalie Kamm: Show solidarity! Get active yourself!
Invitation: people wanted to organize the Climate Camp Leipzigerland 2021 focussing on the mobility justice
Dear people,
Corona is slowly retreating (in Europe), but the climate crisis continues to gain momentum. Time to bring our climate camp from the digital back into the real world: From August 27 to September 7 2021, we will organize a climate camp focussing on mobility justice in close proximity to Leipzig Airport and are looking for people to help us organize. We want to create a place of education, meeting and skill sharing, but also of political action. Our goal is to build on the recent successes of the previous years in the direction of energy transition and to kickstart a similar momentum towards green and sustainable transport. Out of the pit, up on the roads! Another thematic focus on the topic of global climate justice and migration will be linked to the deportation practice at the airport and the previous work on (anti) racism.
We are a grassroots democratic and self-organized group of people from Leipzig and its surrounding areas who are organizing this climate camp. If you want to take care of topics like education, political (direct) actions, public relations, logistics, bar or camp life, you are welcome to join. Experience is helpful, but newcomers are also welcome.
The best time to join is at the next orga circle meeting:
When: 6th til 8th of august!
Do you want to participate? Then contact us at info [at] klimacamp-leipzigerland.de and we will send you all the information. If you want to join us but don't have time this weekend, please contact us and we will send you the information about further meetings.
Who shuts shit down? We shut shit down!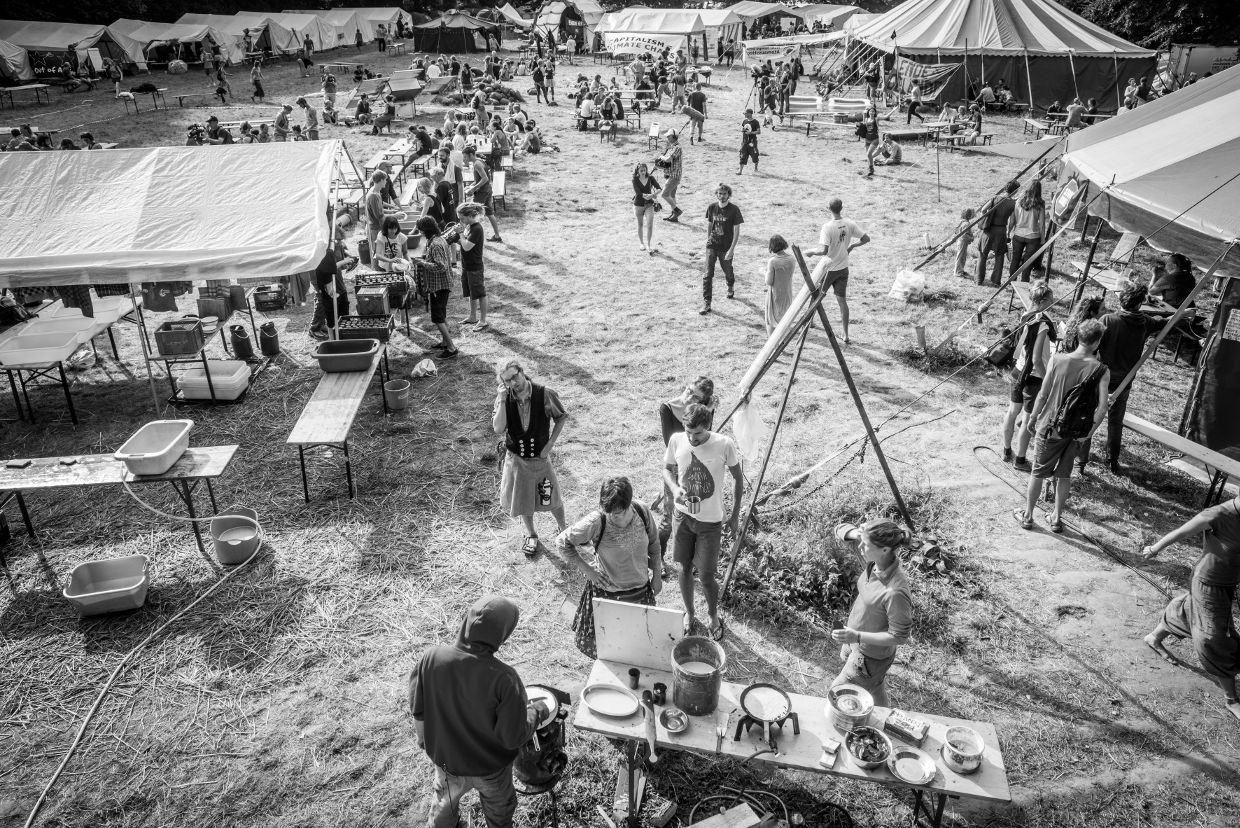 After there was the good news for Pödelwitz in the fall of 2019 that it will be spared from being dredged, this year we would like to turn our attention to another major climate polluter in the Leipzig area: the Airport Leipzig/Halle .
The airport and its further expansion do not only stand for a nonsensical continuation of politics and economy. It also shows that no action is being taken in the context of the urgently needed change in transport policy. The co-determination of local residents and those affected by climate change, as well as progressive climate change in general, are simply being ignored. This is no longer be up to with the times and is no longer acceptable!
We would like to fight together with you for mobility justice for all. We will organize panels, workshops, courses, but also actions and a good solidarity at the camp: cooking together, camping, making plans, empowering each other, living utopias & cleaning the dry toilets.
The climate cmap will be on August 27 – September 07, 2021 + the location somewhere near the airport.
Thank you for a wonderful Climate Camp Leipziger Land 3.1! In the meantime, it is already over a month behind us. But here and there we are still busy with the follow-up. So we are now gradually publishing the recordings of the camp in the circus tent. And even though most of the functionality is already switched off, you can still click through our digital camp.
We are still happy to receive donations!

The Climate Camp Leipzig is back! It will take place from 5th to 7th of June 2020.
Our Program is online by now and you can also register for Workshops.
Additionally, you can find a packing list so that you are well prepared for a digital climate camp!
Have a look at the packing list, the program and the workshops and get infected by the joyful anticiptation. You will have the opportunity to participate in practical and theoretical workshops about a necessary system change ranging from digital self-defense to BI_PoC** Empowerment, with guest speakers from Rojava, South Africa, the Netherlands, Peru and Germany. An interactive fishbowl discussion, an international podium about different global perspectives on the climate justice movement and a rich cultural programm as well as the possibility to get involved and active are just waiting for you. We hope to see you on Sunday for a common picknick in Leipzig where we want to enjoy being together with physical distance. You will get more information during the weekend!
We are very happy to meet you soon (next weekend)!
Your Climate Camp Leipzig
* The Climate Camp Leipzig 3.0 cannot take place as planned, due to the Corona shutdown. Now follows the second addition in version 3.1 digital.
** Black, Indigenous & People of Color

Dear people,
The Climate Camp Leipzig is back. It will take place from 5th to 7th of June 2020.
Together with you we want to develop utopias and visions of a society fostering 'a good life for everyone' and resilient against every crises. A society rooted in solidarity, sustainability and democracy.
Corona uncovers the causes of injustice and exploitation of nature even more. This exceptional camp gives space to exchange about the multiple crises ranging from the health crisis to the climate crisis and explore the underlining global interrelations and power structures. Thereby we will also reflect on our own role and positioning within the structure as well as empower each other.
How is this possible in times of corona? Mainly online and by video chat.
You will have the opportunity to participate in practical and theoretical workshops about a necessary system change ranging from digital self-defense to BI_PoC** Empowerment. There will be room to get involved, reflect, discuss, do fun stuff, plan actions and to unite & organize.
Program-Teaser:
interactive fishbowl-discussion about the climate justice movements during corona times
workshops, for example about reflecting racism within the climate movement, societal transformation, skills for effective climate justice activism, BI_PoC** and white*** perspectives on the multiple crises
panel discussion on different global perspectives on the fights for climate justice
activist action in Leipzig – we go back on the streets together
cultural program (concert,…)
open space, socializing, room for exchange
No matter if you have ever been to a climate camp or not, no matter if you are in an activist group or not: climate camps are – in person or online – always a good start for everything!
More information, a packing list and registrations for the workshop can be found on the website of the Climate Camp Leipzig starting at Thursday, the 28th of May:
https://www.klimacamp-leipzigerland.de/en/climate-camp-3-1/registration/
We are very happy to meet you soon!
Your Climate Camp Leipzig
* The Climate Camp Leipzig 3.0 cannot take place as planned, due to the Corona shutdown. Now follows the second addition in version 3.1 digital.
** Black, Indigenous & People of Color
*** "White" does not denote a biological characteristic or real skin colour, but a political and social construction. Being white represents the dominant and privileged position within the power relationship racism, which often remains unspoken and unnamed.